Art transcends time. There is something about a wooden art, perhaps the rigidness or the color, that accentuates its mysterious nature. Below Japanese wooden arts of artistic to entertainment purposes can really offer us an appreciation for zen and wonders to our minds.
1. Traditional Japanese Art of Wooden Sculpture
Let us begin with the traditional Japanese art of wooden sculpture, performed by Yosuke Yamamoto. This master sculptor was first introduced to sculpting as a kid, and following graduation from high school, he has dedicated his life into the brilliant mastery. Now he has two apprentices who work with him to create masterworks.
The amount of precision and attention paid to finishing each piece of his art is unbelievable. The detail of the features grabs one's attention in a second, and makes us wonder about the history behind each one, allowing us to travel in time.
2. The Rube Goldberg Machine by NestleJapan
NestleJapan installed a wooden Rube Goldberg Machine that played Christmas songs at the center of the Nescafe shop in Harajuku, Tokyo. Introduced as the coffee moment ensemble, the machine was on display from 21st of December until Christmas Day last year.
Designed and created by a creative agency, Bascule, over the course of five months, the machine is pretty to look at and sweet to our ears. The wholly mug-shaped machine is 11.5 foot tall and made of 1,450 pieces of wood and 180 xylophone keys. When a customer orders a coffee using Nescafe's "Barista i" app, a bird drops a metal ball in the screen and it triggers a real red ball to roll down the staircase-looking keys of the contraption.
Right when you start wondering how this art of architectural instrument came to its being, the beautiful xylophone music calms you down, not to mention the excitement from the thought of a hot tasteful cup of coffee on your way.
3. Wooden Car from Toyota
At the Milen Fashion Week, Toyota presented a car that is made of wood, the Setsuna. They made a total of 200 wooden pieces that interlock together, known to be Japan's traditional techniques, such as okuriari and kusabi. This means that the pieces perfectly fall into place with one another not requiring nails in the process.
It turns out; Toyota focused more on its meaningful value than its utility function as a car.
One of the characteristics of wood is that it changes color over time depending on the maintenance level. Designed to be a family heirloom, this car over time will adapt accordingly to its owners, carrying their memory and personality. And, it truly becomes an art. The car is also said to carry a dashboard that features a clock, showing the total number of years it has been with a particular family.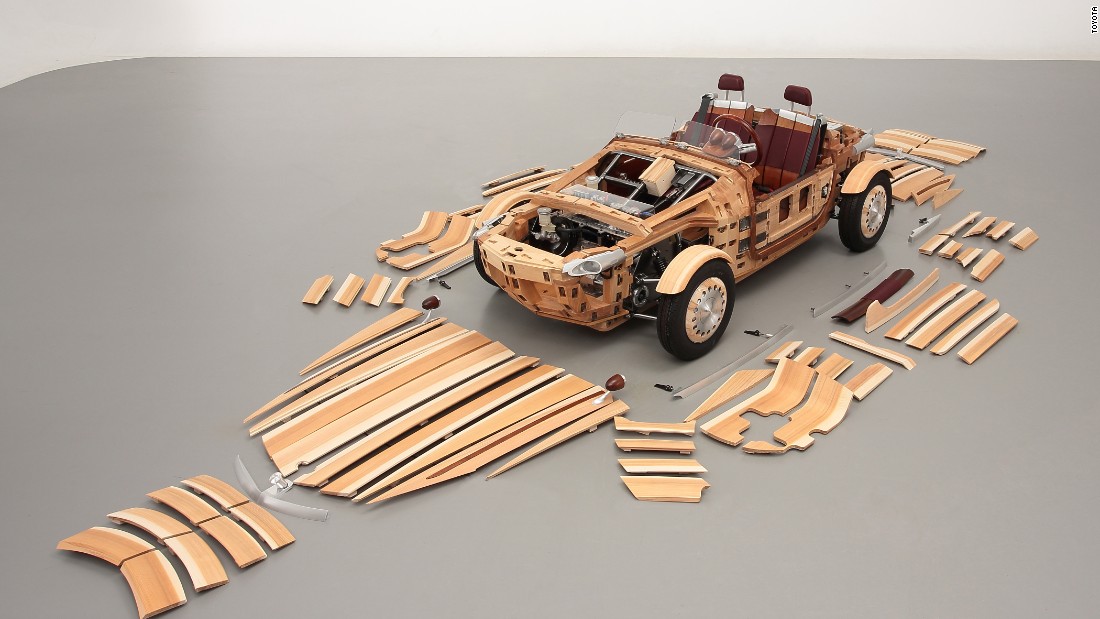 4. Wooden Clock with over 400 pieces
Kango Suzuki's wooden clock, made for his senior thesis exhibition at Tohoku University of Art and Design, will blow your mind. The clock consists of 402 wooden moving pieces that write out the time. Inspired by a moving automation doll that draws, Suzuki thought that it would be interesting to build something that writes out the time instead.
After cutting out pieces on his own and getting over the challenges such as getting rid of friction, Suzuki was finally able to showcase the clock. The magnetic drawing board typically found as a kid's toy is capable of miraculously erasing itself every minute. Watch this little clip of the clock rewriting itself every minute. All these small wooden pieces moving instantaneously to work a little magic will leave you stranded.
5. Wood-carved food
Be careful not to put any of these in your mouth by accident-you will not like the consequences. Wood Sculptor from Japan, Seiji Kawasaki, carves realistic foods that are small enough to eat. One must be careful not to confuse one from the other. There are small anchovies, chocolate bar, a wooden toast, and croissants, etc. These art works blur the line between the real and the fake world. Well, isn't that the art of art?